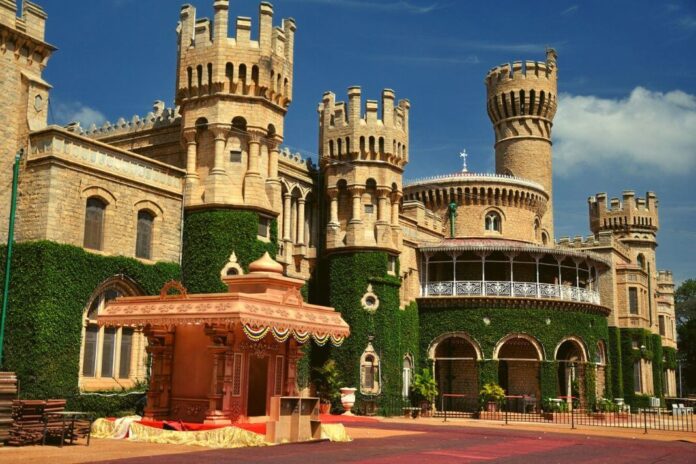 Bengaluru, formerly known as Bangalore, is the capital city of Karnataka. Bestowed with good weather throughout the year, Bangalore bustles with life and energy representing a potpourri of cultures blending together. It is also one of the largest cities in India. Renowned worldwide as the Silicon Valley of India, the city is the IT hub of the nation. Prior to the IT revolution, Bangalore was also known as Pensioner's Paradise.
Major attractions of the city

This map was made with
Wanderlog
, for itineraries
Lalbagh Botanical Garden
This grand garden sprawls across 240 acres of space with a rare collection of sub-tropical and tropical vegetation. This place also has a majestic glasshouse that is built in the style of London's Crystal Palace. Lalbagh was made in the 17th century, the construction being started by Hyder Ali and later completed by his heir, Tipu Sultan. The name Lal Bagh is derived from a collection of red roses that bloom throughout the year. During Independence Day and Republic Day celebrations, Lalbagh dons a festive look with a show of over 200 varieties of flowers. The exhibition also features hybrid vegetables.
Tipu Sultan's Palace And Fort
The Palace and Fort of Tipu Sultan was originally erected by Chikkadeva Raya in mud. Later, Hyder Ali started the reconstruction process encompassing both Indian and Islamic architecture styles. This was finally completed by his son Tipu Sultan in the year 1791. The Hindu temple in the courtyard stands testimony to Tipu's religious tolerance.
Cubbon Park
Located right in the heart of Bangalore, Cubbon Park boasts of 300 acres of lush green space to laze about. The park has ornamental and flowering trees both indigenous and exotic. It is frequented by nature lovers, joggers or just casual trotters. Within the premises of the park is Bal Bhavan, a great place for kids to unwind and enjoy. The aquarium within the complex has varieties of ornamental and exotic fish.
Bangalore Palace
Drawing likenesses to England's Windsor Castle, Bangalore Palace was built by Chamaraja Wodeyar in 1887 seeking inspiration from the former. The palace has Tudor style architecture and is lined with green lawns, fortified towers, arches and elegant woodcarvings in the interiors.
Ulsoor Lake
Spread over an area of 125 acres, Ulsoor Lake was constructed by Kempegowda. It is one of the most preferred attractions for tourists. Boating and swimming are the prime reasons why people visit Ulsoor Lake.