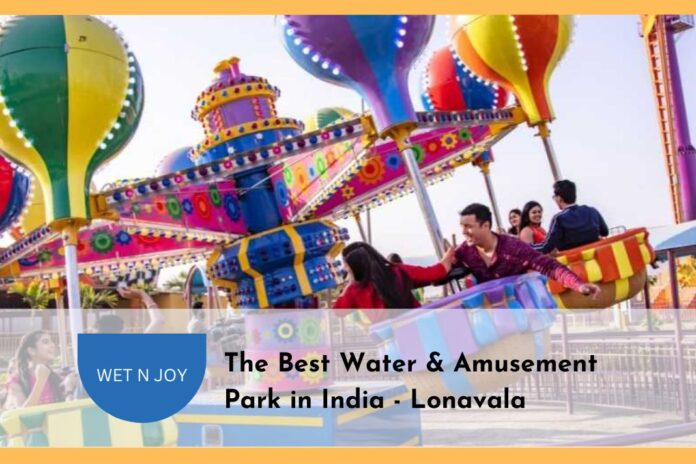 There are different ways in which you can enjoy a day off or a weekend. But if you are looking to have fun, adventure and test your limits, then visiting a water and amusement park is just perfect. Wet n Joy, Lonavala, located on the Old Pune Highway is a popular destination in Maharashtra. The largest amusement park in Mumbai, it also, has a sprawling waterpark that boasts 25 international rides and India's largest wave pool. The exciting rides, varied facilities and services, reasonable pricing and offers, and easy accessibility from both Mumbai and Pune make it a destination, worth trying out on your next day off.
How To Reach Wet n Joy, Lonavala
Wet n Joy, Lonavala, is located in Takve and is about 11km from the Lonavala Railway Station. It is easy to reach the water and amusement park from Mumbai and Pune. If driving from Mumbai or Pune, all you have to do is take the Mumbai-Pune Expressway and then exit on the Lonavala toll plaza. One can also avail of public transport, such as bus or train. From both the Lonavala bus stand (2 km away) and the Railway Station, local autos are easily available to take you to your destination.
Besides, on Saturday and Sunday, a third-party organized bus ride from Mumbai picks up passengers at different bus stops. The bus service begins at 7:00 a.m. in the morning from Borivali East and reaches the designated bus stops at scheduled times. The bus departs from Wet n Joy, Lonavala at 6:30 pm from the park, dropping the passengers en route.
When to Visit Wet n Joy, Lonavala
Wet n Joy, Lonavala is open throughout the year. The water park is open from 10:00 a.m. to 6:00 p.m., and the rides are from 10:30 a.m. to 5:30 p.m. On the other hand, the amusement park is open from 10:30 a.m. to 6:30 p.m., and the rides are from 11:00 a.m. to 6:00 p.m.
One can visit the water park during the summer as a respite from the scorching heat. Just make sure to carry sunscreen and wear a hat while in the amusement park to stay protected from the sun. During the rainy season, the rains may actually add more fun as you splash your way around the waterpark. However, the winters are often considered the best time to visit the park because of favorable and pleasant weather conditions.
Reasons to Visit Wet n Joy, Lonavala
Wet n Joy, Lonavala is a leading water and amusement park in India because of its state-of-the-art and modern rides, as well, as several other facilities and services that make it easy and convenient for visitors.
Services
The park has a luggage area where you can lock up all your belongings. Besides, there are shower areas, changing rooms, costumes, parking spaces, wheelchair facilities, an ambulance on-stand and a medical bay area.
Dining and Shopping
There are four restaurants, at Wet n Joy, Lonavala, where visitors can have lunch or snacks. The Maharashtra Mazha, Ocean-Retreat, Italia and Khau Galli serve authentic and delicious dishes to manage the hunger needs of visitors who need a break from the rides. Besides, there are food stalls spread across the park to snack on popcorn, corn etc.
There is also a shopping kiosk and merchandise shop for visitors to take back home some souvenirs, memorabilia or gifts.
Family and Thrill Rides
Wet n Joy Water Park
Considered as one of the best water parks in Pune and Mumbai, Wet n Joy, Lonavala offers some great family, as well as, thrill rides. There is something for all ages to do here. The Lazy River, for instance, is for those who are looking for some quiet moments, while afloat under the clear skies. The Rain Dance Station, as the name suggests, is you dancing in the rain, grooving with energy to the latest musical numbers.
For children, the Royal Castle and Fungama are a dream come true. The 1000 sq. ft Aqua playstation in the Royal Castle is all about fascinating slides, mazes and tunnels. Fungama, on the other hand, is for toddlers who are still exploring the wonders of aquatics.
But, the real fun in a water park is the adrenaline thrill rides. Wet n Joy, Lonavala, offers some stunning high-speed, rush-inducing rides that will leave you screaming with thumping hearts. The Sky Fall is when you are thrown in the air for a fraction of a second before you land with a splash and of course, relief! In Free Fall standing at a height of 69 feet at a 90-degree angle, and cascading down just as a waterfall, is fantastic.
Pass through dark tunnels in Tornado or ride through a series of open and closed tunnels, through ups and downs in Master Blaster. The water rides at Wet n Joy, Lonavala do not disappoint.
Wet n Joy Amusement Park
Most parks across the country, are either just water parks or amusement parks. Or there is one that predominates over the other. But in Wet n Joy, Lonavala, both the water park and its amusement park are located within the same premises and each is as well-equipped and enjoyable as the other.
The Wet n Joy Amusement Park is one of the largest amusement parks in India because it offers more than 30 rides of different levels of adventure and thrill. Oh yes, some of the rides are not for the faint-hearted for sure! You really have to be a tough nut, if you can stop yourself from letting out wild screeches atop the Top Spin Suspended. Or imagine the Giant Frisbee that generates 180-degree pendulum motions along with a 360-degree rotation. Whether you try the Turbo Force where the full force of the air is on you or the Sky Screamer and Delta Hoopla, these high thrill rides at Wet n Joy, Lonavala definitely make you feel like heroes who can defy elevation and gravity.
But, of course, for those who would like to play it safe, there are thrill rides of a lesser degree, such as Mega Disco, Flying Carousal, Carnival and Air Race. And for children, there is the Junior Jet, Truck n Trail, Ferris Wheel and more.
Other Attractions
Besides, the rides there are a few other attractions and activities that are also popular at Wet n Joy, Lonavala. The 5-D theatre is one of its kind, offering fantastic viewing experiences never seen before. Similarly, the 3-D theatre, Mirror Maze and House of Horrors are additional ways to enjoy and pass the time.
However, another highlight is the Muddy Madness Arena which is a group activity that is a lot of fun with friends, as well as, corporate groups. With challenges and strategies, each group has to fight to win in the muddy mess all around.
Pricing and Offers
One would imagine that a day's visit to an amusement and water park may turn out to be highly expensive. But Wet n Joy, Lonavala, offers a varied range of offers and discounts, that are easy on the purse.
For one, there is a discount if you buy the combo ticket for both the water park and amusement park together. On weekdays, a combo ticket for adults costs Rs. 1499 and Rs. 1299 for kids. This is a good offer when one considers the individual rates of each park.
Also, online booking facilities help visitors book in advance and avoid long queues. Furthermore, there is a range of offers when you book your tickets online, such as 15% off if there are more than 4 tickets booked in combo.
Similarly, on Thursdays rates are cheaper, students can avail 20% discount, and all-day meals can also be booked at reasonable rates.
Also, the entry ticket is inclusive of the cost of all rides, which have unlimited access.
And guess what, there are special offers on your birthday. There is free entry on your birthday, as well as, 5 days before or after. Besides, up to 4 friends get 20% off on entry tickets if they come with you to party on your birthday at the park! However, you need to fill out an online form 24 hours prior to your visit to the park to avail of the birthday offer.
A Perfect Day Out
Wet n Joy, Lonavala, is considered a great water and amusement park experience and is well-known to the people of Maharashtra. However, there is a growing buzz and increased attention to find places where family, friends and corporates can have fun and build bonds. And Wet n Joy, Lonavla fits the bill to the tee! With family and adventure rides, the place is an ideal holiday getaway for children and the elderly. For youngsters, there is no dearth in the myriad of adventure and thrill rides. And for corporates, the various activities are perfect for team building. With online bookings and offers, the park is affordable and with facilities such as wheelchair provisions, it highlights its inclusive sensitivity.
For even those who are travelling from Mumbai or Pune to other destinations, taking a stopover at Wet n Joy, before continuing onwards is a good adventure to include in your travel itinerary. But of course, for those looking to de-stress and relieve the hectic schedules of the week, or wanting to spend some quality time with family and friends – Wet n Joy, Lonavala can be the place you want to be in.